Awarded annually at the December Member Economic Luncheon, this award recognizes an entrepreneur who has distinguished themselves not only by their success in business, but also their creativity, innovative spirit and community involvement.
In addition to being announced at the December Member Economic Luncheon, the honoree will be recognized in The Augusta Chronicle and receives a complimentary entry in the U.S. Chamber of Commerce Dream Big Small Business Award.
To be eligible for the Augusta's Entrepreneur award, the applying entrepreneur must meet requirements as follows:

Owner, partner or major shareholder of the business, and active in its day-to-day operations.
The business must be a member of the Augusta Metro Chamber of Commerce at the time the award is presented.
The business must be financially stable and operational for a minimum of 12 months.
CLICK HERE TO DOWNLOAD THE 2019 AUGUSTA'S ENTREPRENEUR APPLICATION
Applications must be RECEIVED by Friday, November 15, 2019 to be eligible.
---
Augusta's Entrepreneur Award is Presented by:
---
Past Augusta's Entrepreneur Award Winners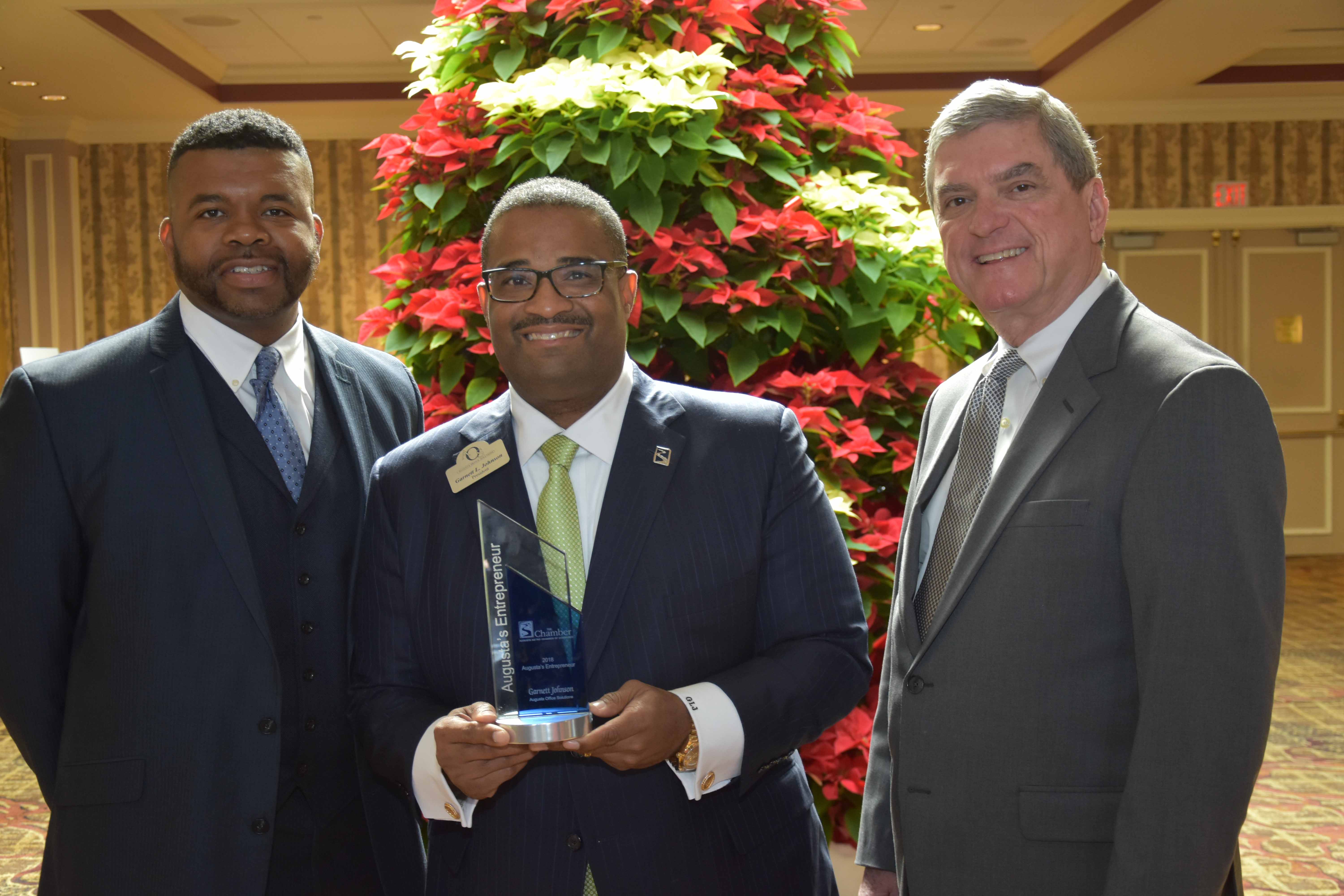 2018 Augusta's Entreprenuer, Garnett Johnson (center), Owner & Founder of Augusta Office Solutions
2018 - Garnett Johnson, Augusta Office Solutions
2017 – Lane Keen, Keen Signs & Graphics
2016 – Ellefson Family, Ellefson Transportation Group
2015 – Barry Bryant, Barney's Pharmacy
2014 – Charles Johnson, EDTS
2013 – Randall W. Hatcher, MAU Workforce Solutions
2012 – Kevin Wade, Intellisystems
2011 – Steven Kendrick, Kendrick Paint & Body
2010 – Angela Swarts, Spherion
2009 – Audrey Snuggs, Sloane Wiggins, Cudos
2008 – Rick Allen, R. W. Allen, LLC
2007 – Larry Jones, Universal Plumbing
2006 – Fred Daitch, International Uniform
2005 – Jeff Annis, Advanced Services, Inc.
2004 – Dr. Hassan, Dr. Mullins, Dr. Still, Joseph M Still Burn Centers
2003 – Jeff & Joey Hadden, Phoenix Commercial Printers
2002 – Tommy Norris, Prudential
2001 – Marvin Brown, Eagle North America
2000 – Lottie Ellison, Computerland Advanced
1999 – William Polonus, Augusta Disposal & Recycling
1998 – Shankar Balan, Palmetto Industries
1997 – Vera Stewart, Very Vera, Inc.
1996 – Chuck & Gail Baldwin, French Market Grille
1995 – Jean Morris, Trotter Realty Company
1994 – Frank Wilson, Frank Wilson Rental & Sales
1993 – Abram Serotta, Serotta Maddocks Evans & Co.
1992 – Gail Mercer & Linda Walker, Alltogether, Inc.
1991 – Julian Osbon, Osbon Medical Center
1990 – Brian Marks, Augusta Sportswear