Public Policy Agenda
The Augusta Metro Chamber of Commerce Public Policy Agenda for Augusta-Richmond County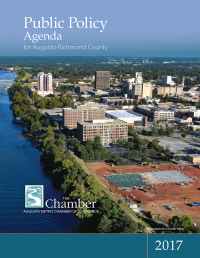 Stephen Wade, Chairman of the Chamber's Advocacy Committee, hopes that the "document will bring attention to the issues and ideas most on the minds of Augusta Metro Chamber members." The Public Policy Agenda document is the result of many meetings with the Augusta-Richmond County Commissioners by the Chamber's Board of Directors and Advocacy Committee. "Our first and foremost objective is to build relationships and dialog and work together with our elected leaders to find solutions," says Eddie Bussey, Chairman of the Augusta Metro Chamber Board of Directors.
---
The document is broken out into four sections and the key points of the agenda include:


The first section is dedicated to a healthy and thriving central business district, and points out some key imperatives including downtown maintenance, downtown parking and ordinances that guide the way downtown looks, functions and is positioned for growth.
Second, the county needs a long-term strategic fiscal plan. We need to be looking further out than one-year budgets so we have a plan for how our City will meet future expenses, grow revenues and be well positioned for economic investment.
And finally, the Chamber would like to reiterate our strong opposition to any new taxes imposed on our manufacturing industry. Augusta has the 2nd

 

largest concentration of manufacturing in the state of Georgia outside of Atlanta. Over the last several years, our manufacturers in Augusta-Richmond County have endured a 22% tax increase and a new storm water fee. We cannot continue to raise taxes on these businesses, many of which are expanding investments and jobs in our county.


The Chamber emphasizes many of the issues highlighted in this document are areas we can work on together with our elected officials to address. Above all, the Chamber stands ready to roll up our sleeves and find solutions. 
View the 2017 Public Policy Agenda for Augusta-Richmond County