About Us
"The mission of the Augusta Metro Chamber of Commerce is to lead the business community by serving as its advocate, promoting our region, enhancing the business climate, and promoting quality membership programs and services."

---
The Augusta Metro Chamber of Commerce is the largest business membership organization in the CSRA. Membership is open to all businesses and organizations interested in enhancing the overall growth of the Augusta Region as well as investing in a multitude of opportunities that will maximize their growth and opportunity.

The mission of the Chamber has three components:
Serving as the voice for business in matters of public policy and legislative affairs
Working to promote the region as a partner in economic development
Providing programs and services to our members that enhance their profitability, productivity, and overall success.
---
Chamber of Valor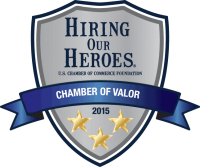 The Augusta Metro Chamber of Commerce is committed to the success of the CSRA's military community, and the U.S. Chamber of Commerce Foundation has honored that commitment by presenting the chamber with the Hiring Our Heroes (HOH) three-star Chamber of Valor Award.