Augusta native Garnett Johnson named 2018 Augusta's Entrepreneur!
Date posted
December 6, 2018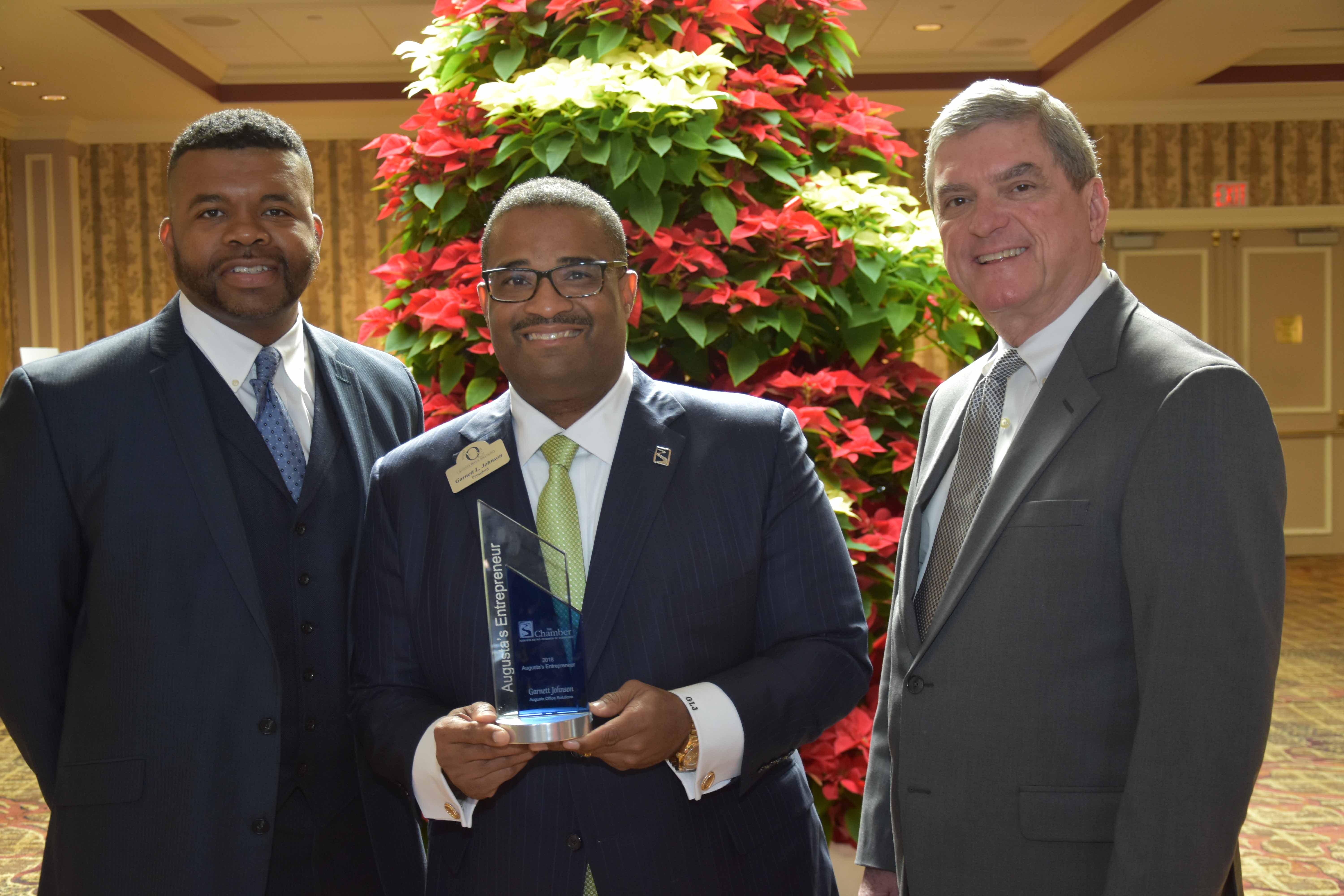 The Augusta Metro Chamber, with South State Bank, named Garnett Johnson, President of Augusta Office Solutions, as the 2018 Augusta's Entrepreneur. Garnett was honored today at the Chamber's Member Economic Luncheon. Robert Osborne of South State Bank (pictured right) along with Eddie Bussey, Immediate Past Chairman of the Augusta Metro Chamber Board of Directors (left) presented Garnett (center) with this year's Augusta's Entrepreneur award.
Established by Garnett in 2010, Augusta Office Solutions (AOS) is a business-to-business solutions provider of everything office ranging from general office products, office furniture, technology, managed print services and multi-function copiers. AOS not only serves both small office and large-enterprise multi-department customers throughout the Augusta River Region, but also serves national accounts across the United States with their corporate division, Integrated Supply Solutions, providing next-day delivery of more than 25,000 business products.
Augusta Office Solutions was formed at the height of the recession and from the beginning Mr. Johnson exemplified the innovative spirit and unique approach to business development celebrated by the Augusta's Entrepreneur award. Entering a challenging market among national competition, Garnett and his team at AOS differentiated themselves with industry leading technology for order processing and online presence, and by offering a complete, single source solution for everything office. Johnson's vision, along with an unwavering commitment to customer service, has led to the success of AOS achieving double-digit revenue growth every year since establishment.
An Augusta native, Garnett Johnson sees his role as business owner in the Augusta region to include helping to create a better community. He encourages and challenges his AOS teammates to get involved and offer themselves as volunteers, and his personal involvement includes roles on the board of directors of the Augusta Metro Chamber of Commerce and Leadership Augusta, as well as incoming Chairman of the American Heart Association CSRA Heart Ball. Garnett Johnson and Augusta Office Solutions are vested in the Augusta River Region community and investing in the continued growth of the region.
Augusta's Entrepreneur, presented by South State Bank and awarded annually at the Chamber's December Member Economic Luncheon, recognizes an entrepreneur who has distinguished themselves not only by their success in business, but also their creativity, innovative spirit and community involvement.
###