Winners of the 2020 Best in Business Awards, Augusta's Entrepreneur and Corporation of the Year
Date posted
December 10, 2020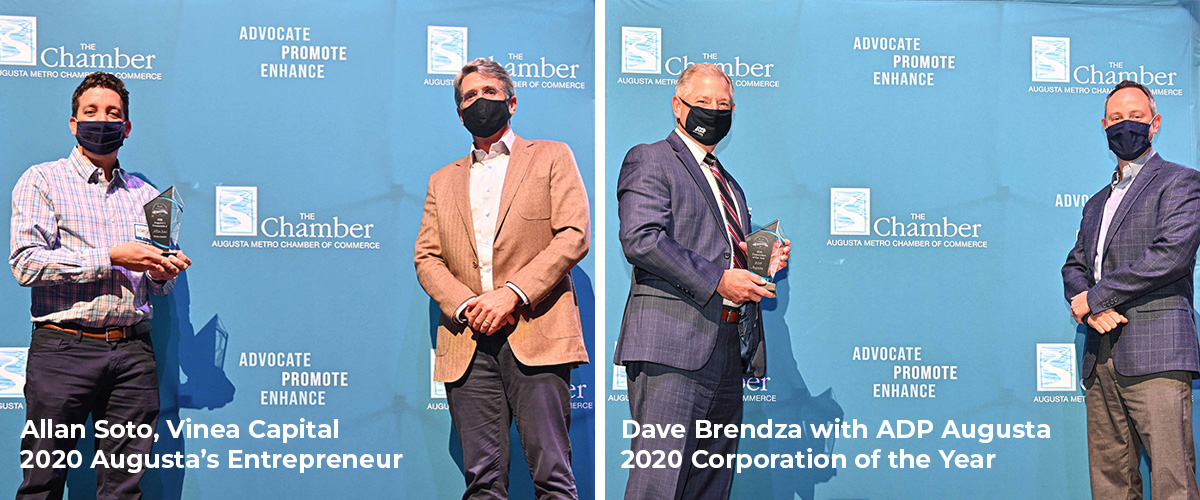 Augusta Metro Chamber Celebrates Winners of the 2020 Best in Business Awards,
Augusta's Entrepreneur and Corporation of the Year
Each year, the Augusta Metro Chamber of Commerce honors the individuals and companies who have distinguished themselves in the Greater Augusta region. The recipients of this year's Best in Business awards were celebrated at the Chamber's December Member Economic Series on December 10 at the Miller Theater. The Best in Business awards include Augusta's Entrepreneur, presented by South State Bank and Corporation of the Year, presented by Georgia Power.
The Augusta's Entrepreneur award recognizes an entrepreneur who has distinguished themselves not only by their success in business, but also their creativity, innovative spirit and community involvement. Allan Soto with Vinea Capital, our 2020 Augusta's Entrepreneur, embodies the true entrepreneurial spirit and finds ways to add value to people's lives through business and service. This is demonstrated by Vinea Capital's mission to cultivate change and growth within our community through creating businesses and helping established businesses soar. Allan is CEO/Owner of Vinea Capital, the parent and management company for Soto ALG, ABLE Kids, ABLE Pediatrics, Soto Properties, Vinea Properties and Pineapple Ink Tavern, voted "Best New Restaurant" by Augusta Magazine's 2020 Best of Augusta. Vinea Capital provides strategic and operational support to all of their businesses while addressing 3 area of focus: Underserved Children, Individuals with Special Needs, and helping to end generational poverty.
When recognizing a company who has distinguished themselves with outstanding commitment to business development, market expansion and community development within the CSRA, the winner of this year's Corporation of the Year meets and exceeds all of these expectations. ADP, our 2020 Corporation of the Year, has more than doubled their number of employees since inception within the Augusta market in 2007, and their recent expansion increased their footprint by 38%. ADP's success is rooted in hiring, retaining and developing top talent in the communities in which they operate. ADP has received a large number of awards across the globe, to include being named one of America's Best Employers for Diversity since 2018 by Forbes. ADP's Augusta office supports numerous philanthropic, economic development and educational programs in the CSRA as seen in their community relationships, ADP's support of countless initiatives and ADP leaders serving on boards and committees for local organizations.
Along with the Best in Business awards, the Chamber also recognized the 2020 Top 10 in 10 Young Professionals to Watch. The following individuals received awards from Mayor Hardie Davis, Jr. during the Chamber's celebratory event: Morgan Fordham Blanton, Custom Pharmacy; Sabrina Dean, TaxSlayer; Shanteka S. Glover, Savannah River Nuclear Solutions; Amanda Heath, Augusta Judicial Circuit Juvenile Court; Jane Marie Kinsey, McKnight Construction Company; Luneta Louis, John Deere; Sean Mooney, Showpony; Jeffrey B. Pooser, East Central Regional Hospital; Dr. Stephen J. Ramey, Augusta University and Jared T. Williams, The Hawk Firm.
###
Media Contact:
Kathryn Freemon, Communications Coordinator