All About the Mission - February 1
Date posted
February 1, 2022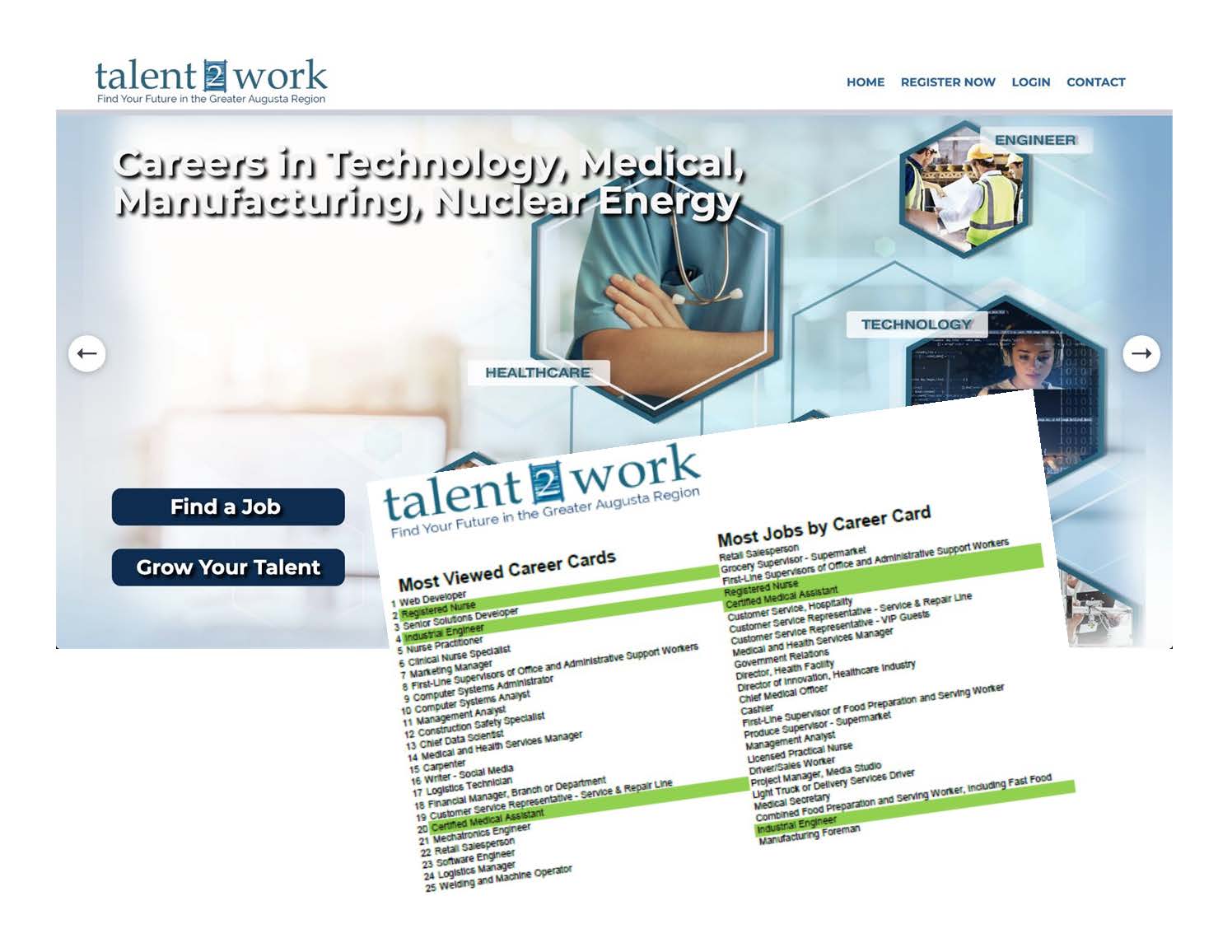 It's hard to imagine any community these days that is not laser focused on generating workforce opportunity and engagement and fostering workforce development. Fortunately, the Augusta Region is no exception. At its February meeting, the Chamber's Business Education Advisory Council (BEAC) had robust updates on RISE Augusta and their efforts to ramp up early childhood literacy, a report from the Richmond County School System on the finalization of their Power Up 1:1 Program and an update from Chamber Staff on the Talent2Work Platform.
The Chamber's Talent2Work platform, now in its 7th month of operation, is a local regionalized job marketplace connecting job seekers to employment opportunities. Simple enough. But the real value of Talent2Work is how we are able to use its built-in data dashboards to understand barriers to employment, job interests versus high demand careers and support high school students within the Richmond County School System to identify and plan career objectives and gain experiential learning. The Council had its first opportunity to review 6 months of activity relative to the top 25 most career cards viewed versus most jobs listed on the site by career card. As anticipated, there are wide gaps on the occupational goals of jobs seekers when measured against actual jobs available over the last 6 months. While 3 of the 25 were a match for both lists, there is still a lot of opportunity to better inform, educate and connect job seekers and young youth into the local job market. In addition to various statistics, staff also provided a remedial review of the tools available on the site including audio replication of job descriptions for job seekers with low literacy comprehension, soft skill learning modules as well as education and training opportunities related to career cards offered by public and private colleges and universities within a 50-mile radius.
The RCSS reported at the meeting that its Power Up 1:1 Initiative has been 100% fully implemented as of January 31st. The 1:1 Initiative provides every student in the district with a device as well as internet connectivity and provides teachers with new or refreshed technology. Using mi-fi devices and low-cost commercial services, any family with students in the system that desires internet service has now been provided connectivity 24/7.
Laurie Cook, Executive Director of RISE Augusta, formerly called Community in Schools Augusta-Richmond County, provided an update on their recent rebranding and mission to expand efforts on addressing early childhood literacy. Ms. Cook shared data on the current conditions and consequences of children who cannot read on grade level by grade 3. She also shared with the group that RISE Augusta will be a partner tenant to the HUB Innovation Center currently under construction on 15th street near the Harrisburg and Laney Walker neighborhoods.