Census 2020 - Every.One.Counts., Augusta Metro Chamber Legislative Breakfast
Date posted
October 15, 2019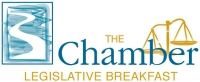 The Augusta Metro Chamber will host their annual Pre-Session Legislative Breakfast on Tuesday, November 12, 7:30 – 9:00 am, at the Augusta Marriott. Guest speakers Lori Geary and Tharon Johnson, consultants to the Georgia Complete Count census campaign, will discuss the importance of the 2020 census, the challenges presented, and the potential impact at the state and regional level for funding and representation.
Emmy Award Winning Political Reporter, Lori Geary, is a Partner with Lexicon Strategies and President of Lori Geary Media. She has spent decades in the media industry covering local, state and national campaigns along with state government. Lori joined the reporting team of WSB-TV in 1997 while anchoring at CNN Headline News. She stays active in the broadcasting world as the host of WAGA's "The Georgia Gang" and a panelist for Georgia Public Broadcasting's "Political Rewind." Her expertise is now in media training, media strategy, corporate communications, crisis communications and video storytelling. Governor Kemp recently appointed Lori and Tharon Johnson Co-Executive Directors of the Statewide Marketing Campaign for the 2020 Census.
Tharon Johnson is the founder and CEO of Paramount Consulting Group, LLC, a firm specializing in media relations, government affairs and electoral strategy. Tharon has advised numerous elected officials including President Barack Obama and, as the National Southern Regional Director for the 2012 Obama For America campaign, Tharon led the presidential re-election campaign effort for 11 Southern states. Following his time in government, he advised private sector clients on their public policy strategies as a partner at a leading government affairs firm. As a regular key contributor on CNN, MSNBC, Fox 5's "The Georgia Gang," WSB-TV and Georgia Public Broadcasting's "Political Rewind," Tharon provides insights and analysis of political and policy developments.
The Pre-Session Legislative Breakfast is complimentary to attend. Advanced registration is required at AugustaMetroChamber.com. Registration deadline is Thursday, November 7. The breakfast is sponsored by Savannah River Nuclear Solutions, Georgia Power and Goodwyn Mills Cawood (GMC). For more information, contact Sabrina Balthrop, Director of Events, at Sabrina.Balthrop@augustametrochamber.com or 706.821.1300.
The Augusta Metro Chamber Legislative Breakfast series provides an opportunity to focus on the activity of state government and its impact on local business. These events allow lawmakers and members to engage in a focused discussion on Georgia public policy.
###