Distinguished Leaders Discussing "From Pandemic to Sansdemic" at Member Economic Luncheon
Date posted
September 2, 2021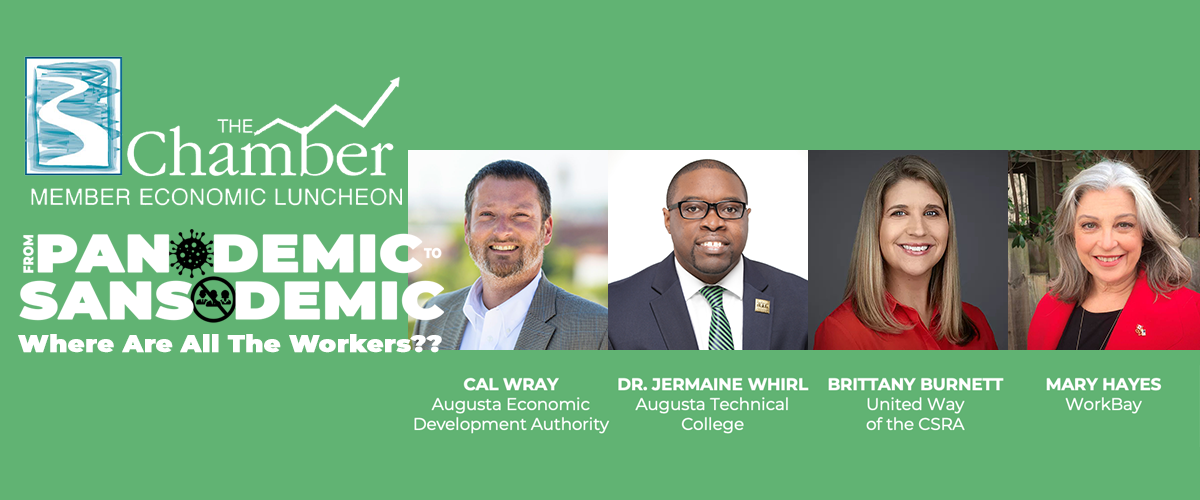 Join the Augusta Metro Chamber for their third quarter Member Economic Luncheon on Wednesday, September 29 at the Augusta Marriott. Beginning at 11:30 am, the program will feature a panel of four distinguished leaders discussing "From Pandemic to Sansdemic – Where Are All The Workers?"
The Augusta Region faces a shortage of workers as does the nation. Some of this disruption in the labor pool continues to be fueled by the pandemic, however many believe that the current worker shortage is decades in the making. This program will focus on opportunities to expand the labor market with more ready-to-work entry level engagement, upskilling the underemployed and earlier intervention at the K-12 level. It will also provide insight on the economic costs to our region of underemployment and unemployment.
Cal Wray is the President of the Augusta Economic Development Authority. As the lead agency for new investment and the retention of existing jobs, Cal will share the latest on our region's workforce demographics, particularly the extent of the idle or non-participating workforce.
Dr. Jermaine Whirl is the President of Augusta Technical College. Dr. Whirl will share programs and opportunities within TSG to provide training, credentials and education at the high school and post-secondary levels as well as upskilling opportunities. He will also talk about programs designed to improve the entry level worker experience thus creating better worker retention.
Brittany Burnett is the President of United Way of the CSRA. As a lead organization in the region deploying health and human services and resources, Brittany will share insight on the economic costs associated with meeting the needs of the underemployed and unemployed populations.
Mary Hayes is the founder of WorkBay. Mary will share lessons learned at the national level on the behaviors and attitudes of entry level job seekers and how to improve resources at the local level to engage potential workers with greater success and create better employer/employee satisfaction.
Tickets are $35 for Chamber members and $45 for prospective members. Purchase a corporate table of 8 seats at a discounted rate. Member Economic Luncheon Series sponsors include Augusta Magazine, Azalea Investments, Doctors Hospital, Savannah River Nuclear Solutions and South State Bank. Technology sponsor WOW! Business and parking sponsor Ellefson Transportation Group with media sponsors News 12 NBC 26 and The Augusta Chronicle. Advanced registration is required at augustametrochamber.com. Deadline to register is Friday, September 24.
These quarterly events promote and stimulate economic growth through timely and insightful programs on a broad range of topics with emphasis on global economic trends, corporate success, and turnaround.
###
Media Contact:
Kathryn Freemon, Communications Coordinator