Leadership Augusta 2019 Celebration of Leadership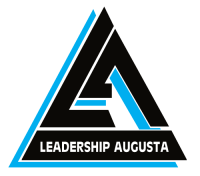 On Thursday, May 16 at the Snelling Conference Center, Leadership Augusta hosted the 2019 Celebration of Leadership featuring the 2019 Adult Class Graduation and Annual Alumni Awards. Celebration of Leadership recognized the following graduates of the 2019 Adult Class:
Michael Albright, ADP; Malcom Banks, Allstate Financial Services; Jane Barrett, Georgia Cancer Center; Stephen Bradshaw, Queensborough National Bank & Trust; Chad Brantley, Christ Community Health Services; Kigwana Cherry, OYO Rooms; Moose Cunningham, Forces United; Amy Dalton, Augusta Mall/GGP; James Dean, Cranston Engineering Group; Gary M. Dennis, Jessys Norman School of the Arts; Ryan Downs, WDM Family Enterprises; Bridget Duffie, TaxSlayer; Crystal Farrow, South State Bank; Meredith Guedry, Merrill Lynch; Ashley Gutierrez Siler, Golden Harvest Food Bank; Jodie Hammerberg, Mission Essential; Brooke Hillis, Augusta Entertainment Complex; Jay Jefferies, WFXG-TV; Kristi Jilson, Westobou; Tameka Jones, Cerner Corporation; Rachel Mack, Augusta-Richmond County Government; Ali Mays, MAU Workforce Solutions; Sean Mooney, Showpony; Angela Moseley, Augusta Technical College; Andy Palmer, Augusta Judicial Circuit; Eleanor Prater, Augusta Convention & Visitors Bureau; Patrick Regan, Ballard Brands; Jonathan Rios, Augusta Metro Chamber of Commerce; Natalie Scoggins, Kruhu; Mitch Snyder, Hull Barrett; Catherine W. Stewart, Children's Hospital of Georgia; Kimberly Stewart, Augusta Magazine; Jason Stott, Georgia Power Company; Ashley Strong-Green, Augusta Technical College; Linda Tucciarone, Heritage Academy; David Ussery, Serotta Maddocks Evans CPAs; and Madeline Wills, Augusta University Health.
The evening also included honoring and celebrating the following recipients of the 2019 Alumni Awards:
Chairman Award - Angela Maskey
Ruth B. Crawford Award - Pat Knox Hudson
Leadership Award - Jim Price
Service Award - Christine Miller-Betts
Leadership Augusta was established in 1980, as an affiliate of the Augusta Metro Chamber of Commerce. Its mission is to inform and inspire existing and emerging leaders of the greater Augusta area to build a stronger community. Further, to enhance the civic participation of emerging leaders within the region. Participants of all ages, professions and educational backgrounds have the opportunity each month to meet, learn and train to be informed leaders in the community.
###