Leadership Augusta Announces Class of 2019
Date posted
August 23, 2018
The Leadership Augusta selection committee, along with the 2019 Chairman of the Board Mike Cleary, is pleased to announce the Leadership Augusta Class of 2019 roster. The Leadership Augusta Class of 2019 is comprised of 40 existing and emerging leaders within the greater Augusta area, representing a wide variety of businesses and industries. The 2019 Class will be lead by Leadership Augusta alumni James Heffner, 2019 Class Chair, Vice President of Commercial Banking at First Community Bank of South Carolina and Lauren Dallas, 2019 Class Co-Chair, Executive Director of Turn Back the Block. Congratulations to the following members of the 2019 Class: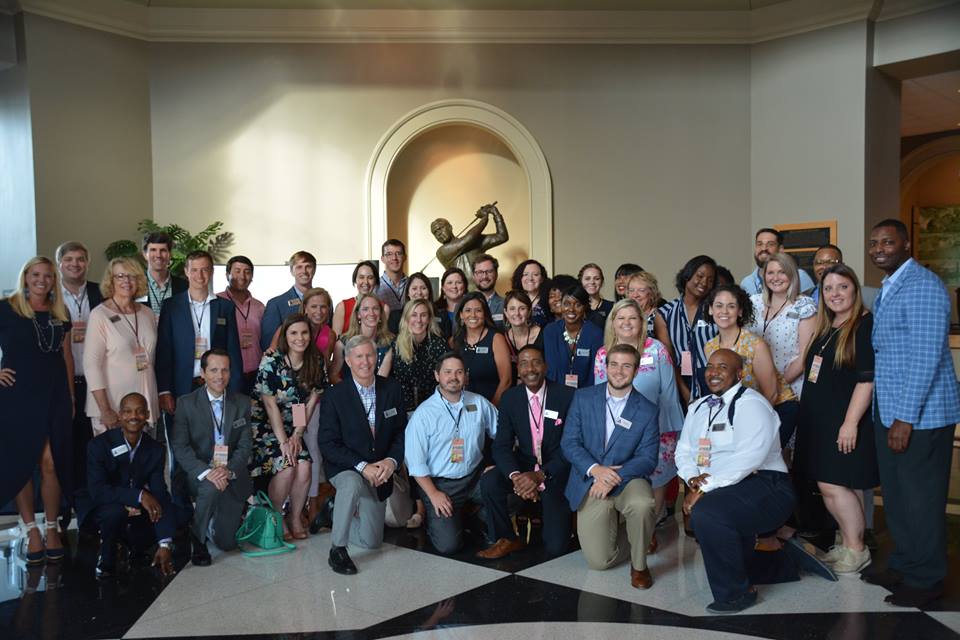 Michael Albright, ADP
Malcolm Banks, Allstate Financial Services, LLC
Jane Barrett, Georgia Cancer Center, AU Health
Chris Boerner, Augusta On Ice
Stephen Bradshaw, Queensborough National Bank & Trust
Chad Brantley, Christ Community Health Services
Kigwana Cherry, Department of Veterans Affairs
Moose Cunningham, Augusta Warrior Project
Amy Dalton, Augusta Mall / GGP, Inc.
James Dean, Cranston Engineering Group, PC
Gary M. Dennis, Jessye Norman School of the Arts
Ryan Downs, WDM Family Enterprises
Bridget Duffie, TaxSlayer
Crystal Farrow, First Citizens Bank
Meredith Guedry, Merrill Lynch
Ashley Gutierrez Siler, Golden Harvest Food Bank
Jodie Hammerberg, Mission Essential
Brooke Hillis, Augusta Entertainment Complex
Jay Jefferies, WFXG-TV
Kristi Jilson, Westobou
Tameka Jones, Cerner Corporation
Rachel Mack, Augusta-Richmond County Government
Ali Mays, Dickinson Architects
Linda McKnight, Southeastern Firefighters Burn Foundation
Sean Mooney, Showpony
Angela Moseley, Augusta Technical College
Andy Palmer, Augusta Judicial Circuit, District Attorney's Office
Eleanor Prater, Richmond County School System
Patrick Regan, Ballard Brands
Jonathan Rios, Masters Housing Bureau
Natalie Scoggins, Kruhu
Mitch Snyder, Hull Barrett, PC
Catherine W. Stewart, Children's Hospital of Georgia, AU Health
Kimberly Stewart, Augusta Magazine
Jason Stott, Georgia Power Company
Ashley Strong-Green, Augusta Technical College
Linda Tucciarone, Heritage Academy
David Ussery, Serotta Maddocks Evans, CPAs
Steven Vincent, Gold Cross EMS
Madeline Wills, Augusta University Health
Leadership Augusta recognizes the power that trusted relationships between community leaders bring to the region. Leadership Augusta's vision is to cultivate leaders who will build upon those relationships, collaborate across cultural and economic boundaries, and develop innovative ways for the greater Augusta area to thrive, socially and economically. In addition to gaining an awareness and understanding of the issues and challenges facing the region, participants in Leadership Augusta can refine their personal and public leadership style and skills, develop diverse contacts and an excellent communication network, receive recognition for themselves and their organization for their voluntary civic activities, and access better opportunities for taking an active role in addressing community needs.
Leadership Augusta is a professional development program started more than 30 years ago with the goal of identifying and educating current and potential community leaders in the CSRA. Leadership Augusta is a ten-month training program affiliated with the Augusta Metro Chamber of Commerce where more than 900 citizens of all ages, professions and educational backgrounds have had the opportunity each month to meet, learn and train to be informed leaders in the community.
###
Media Contacts:
Kate Lecea
Leadership Augusta Coordinator
706.821.1308
Kate.Lecea@AugustaMetroChamber.com
Kathryn Freemon
Communications Coordinator
Augusta Metro Chamber of Commerce
Kathryn.Freemon@AugustaMetroChamber.com