Leadership Augusta Announces Class of 2021
Date posted
August 5, 2020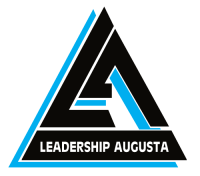 The Leadership Augusta selection committee is pleased to announce the Leadership Augusta Class of 2021. The LA 2021 Class is comprised of 30 individuals, representing a wide variety of businesses and industries within the CSRA region. Congratulations to the following members of the LA 2021 Class:
James Allen
, Augusta Metro Chamber of Commerce
Brittney Alls
, Augusta University
John Barksdale
, Milestone Construction
Maritess Bell
, University Health Care System
Sarah Childers
, Augusta Convention & Visitors Bureau
Amy Christian
, Dickinson Architects, PC
Ricky Coates
, Augusta GA District Attorney's Office
Sheena Dorsey
, Argos Health
Drew Epting
, MAU Workforce Solutions
Shanteka Glover
, Savannah River Nuclear Solutions
Will Godwin
, South State Bank
John Hayes
, Augusta University
Maria Henry
, Boys & Girls Club of the CSRA
Keldrick Hieke
, Richmond County Tax Assessor's Office
Wade Jackson
, TPB Realty, LLC
Stephen King, Jr.
, Georgia Power Company
Chanette Lewis
, Richmond County Solicitor General's Office
Shauntia Lewis
, Augusta GA Housing & Community Development
Rebecca van Loenen
, Augusta Locally Grown
Heather McCoy
, Augusta University
Michelle McKenzie
, RE/MAX True Advantage
Mitchell Murchison
, Cranston Engineering Group
Chiquita Richardson
, Richmond County Marshall's Office
Molly Richardson
, TaxSlayer
Cathy Shaw
, Fort Gordon Directorate of Family & MWR
Alicia Sweat
, Burn Foundation of America
Briana Williams
, Queensborough National Bank & Trust Co.
Tawanaca Williams
, SRP Federal Credit Union
Keri Wilson
, Augusta University
Katie Wynn
, Dynamik Consulting
Leadership Augusta is a professional development program started more than 30 years ago with the goal of identifying and educating current and potential community leaders in the CSRA. "Our leadership team is prioritizing the safety and wellness of our participants and volunteers while striving to maintain the programming standards of Leadership Augusta." Alexia Davis, 2021 Class Chair, emphasizes "We will remain vigilant and flexible as we all navigate the challenges of the current environment. We are looking forward to another great year with the Class of 2021!"
Since its inception, over 1,200 individuals have completed the Leadership Augusta program, acquiring the skills, knowledge, and passion necessary to participate fully in the life of this community. The program brings together individuals ranging from corporate executives, and entrepreneurs to educators, non-profit managers, and public servants. These individuals create lasting networks that are essential to creating a vital, positive community for current and future generations. Leadership Augusta continues to be a vital part of the overall effort to ensure that the pool of talent from which the community can draw its future leaders continues to be renewed.
Leadership Augusta was established in 1980, as an affiliate of the Augusta Metro Chamber of Commerce, to enhance the civic participation of emerging leaders within the region. For more information about the Leadership Augusta program, visit LeadershipAugustaGA.com or AugustaMetroChamber.com.
###