Meet the "Faces of Community Philanthropy" at Augusta Metro Chamber Women In Business
Date posted
October 7, 2021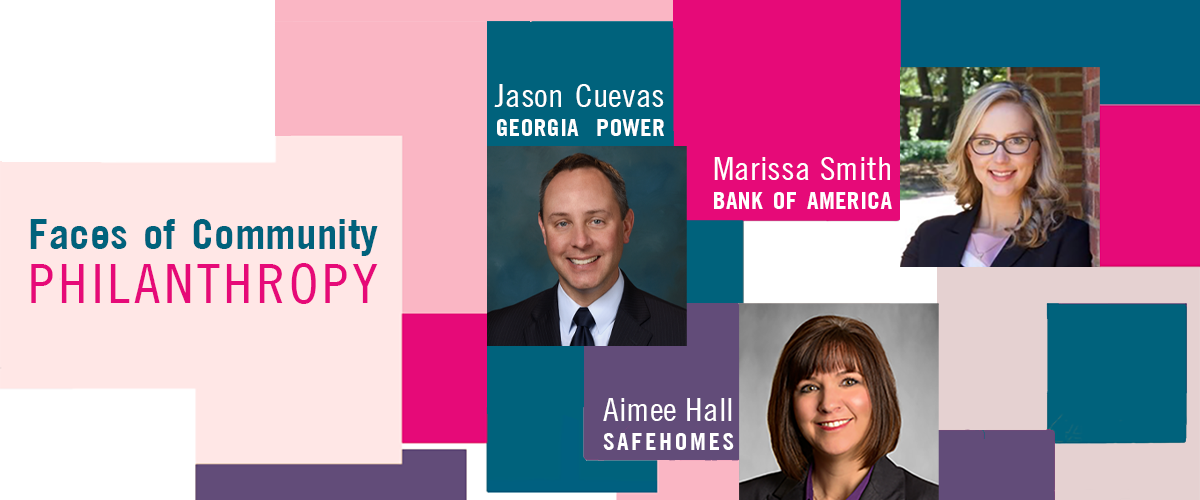 Everyday, businesses partner with non-profits in our community to ensure philanthropic needs and missions are met. On Tuesday, October 19, join the Augusta Metro Chamber for a Women In Business panel discussion to explore how some of our largest corporations focus and manage their philanthropic decisions both in terms of financial support and volunteer participation. Additionally, participants will have the opportunity to hear how one non-profit's strategy for volunteer and board development is essential to their success. Members of the panel include Marissa Smith, Bank of America, Aimee Hall with SafeHomes and Jason Cuevas of Georgia Power.
Marissa Smith, SVP, Augusta-Aiken Local Market Executive, is responsible for business integration, strategic planning, coordinating and leveraging of the bank's local philanthropic contributions, managing events and sponsorships and facilitating relationships with community and opinion leaders. Marissa began her career with the bank in 2005. Prior to her current role, she served as the Financial Center Manager of the Aiken Mall location. Marissa is a dedicated community volunteer, serving as Co-Chair for the Augusta-Aiken Bank of America Community Volunteers and on the Augusta Metro Chamber's Business Education Advisory Council.
Aimee Hall, a native of Augusta, began her career with SafeHomes in 2005. Aimee's passion for the men, women, and children she serves manifested itself in her tireless service in a variety of positions. Aimee was appointed Executive Director in 2007. Under her leadership, SafeHomes successfully raised nearly $3M for a more formal facility. She is a 2012 Leadership Augusta graduate, serves as the community liaison on United Way of the CSRA board of directors, chair of the United Way Steering Committee, and oversees the Domestic Violence Task Force for Richmond and Columbia Counties.
Jason Cuevas serves as Vice President of Georgia Power's East Region. In this role, he leads the company's operations for nearly 400,000 customers across a 39-county area that includes Augusta, Athens, Gainesville, and Milledgeville. Prior to assuming this role in 2019, Jason served as Regional Director of Georgia Power's Southwest Region and as Vice President of Corporate Communication. He and his wife, Sarah, live in Augusta with their two children.
The Women In Business Program is presented by Powell & Associates, Inc. Event begins at 11:30 am at the Enterprise Mill Events Center. Tickets are $25 for Chamber members and $35 for prospective members. Advanced registration required at augustametrochamber.com. Registration deadline is Friday, October 15.
It is the mission of the Women in Business Committee to strengthen the business community of the Augusta region by providing programs that enhance the knowledge, success and leadership goals of working women at all stages of their personal and professional lives.
###
Media Contact:
Kathryn Freemon, Communications Coordinator
Augusta Metro Chamber of Commerce