2023 Students2Work Program Matched 48 Interns with 34 Local Companies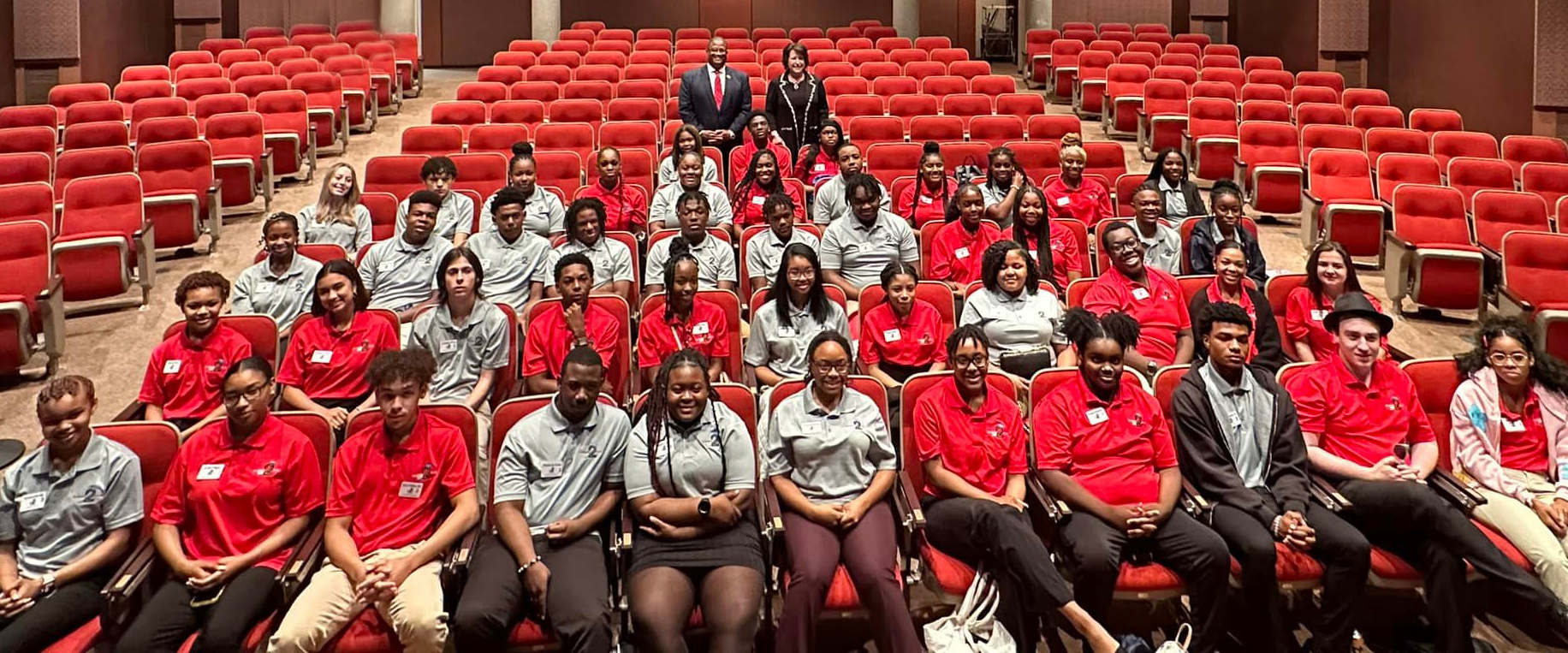 The 2023 cohort of the Augusta Metro Chamber's Students2Work program launched this week providing 48 students with summer internships in 34 companies across the Greater Augusta area. The 2023 Students2Work program officially kicked off Friday, June 2 with the Employer & Student Match Luncheon, an opportunity for host companies and their interns to gather and network. The luncheon featured keynote speaker Dr. Jermaine Whirl, President of Augusta Technical College. Students reported to their host sites on Monday, June 5 and these internships will conclude on July 11 with a celebratory breakfast. Host companies participating this year range from hospitals to manufacturing to skilled trade opportunities with businesses such as Ireland Electric, Universal Plumbing and Reeves Construction.
Students were chosen from a candidate pool of 113 Richmond County School System (RCSS) applicants. Of the 48 students selected, 55% were female and 45% were male. Each applicant underwent an interview process with a panel of business professionals and participated in three days of soft skills training at Augusta Technical College. Participating students represent numerous RCSS high schools including AR Johnson, Academy of Richmond County, Butler High School, Cross Creek High School, Glen Hills High School, Hepzibah High School, Davidson Fine Arts, Laney High School, RCTCM and Westside High School. 74% of students are rising seniors, 15% rising juniors and 11% graduating seniors. 79% of students plan to attend a 2- or 4-year college with 11% planning to head directly into the workforce while pursuing their education.
The 2023 Participating Businesses include: ADP, American Heart Association, Auben Prime Commercial Properties, Augusta Economic Development Authority, Augusta Metro Chamber of Commerce, Bank of America, Boys & Girls Clubs of Greater Augusta, Child Enrichment, City of Augusta-Office of the Mayor, Contract Management, Inc., Crowne Plaza North Augusta, CSRA Alliance for Fort Gordon, Davis, Chapman, and Wilder, Downtown Development Authority of Augusta, First Tee - Augusta, Foltz Fine Art Portraits LLC, Girl Scouts of Historic Georgia, Golden Harvest, Goodwill Industries of Middle Georgia and the CSRA, Ireland Electric Corporation, Keen Signs & Graphics, Morgan Brinson State Farm, North Augusta Chamber of Commerce, Physicians United Urgent Care, Piedmont of Augusta, Reeves Construction Company, Richmond County School System, Savannah Park State Farm, Savannah River Nuclear Solutions, SRP Federal Credit Union, Starbucks Soluble and Roasting Plants, The Clubhou.se, The Jessye Norman School of The Arts and Universal Plumbing. The Chamber extends our deepest appreciation to these companies for their participation. To learn more this workforce development program, visit Students2Work.org.
###
MEDIA CONTACT:
Kathryn Freemon, Communications Coordinator
Augusta Metro Chamber of Commerce
706.627.3898
Kathryn.Freemon@AugustaMetroChamber.com