Students2Work Program Receives $30,000 Grant from Bank of America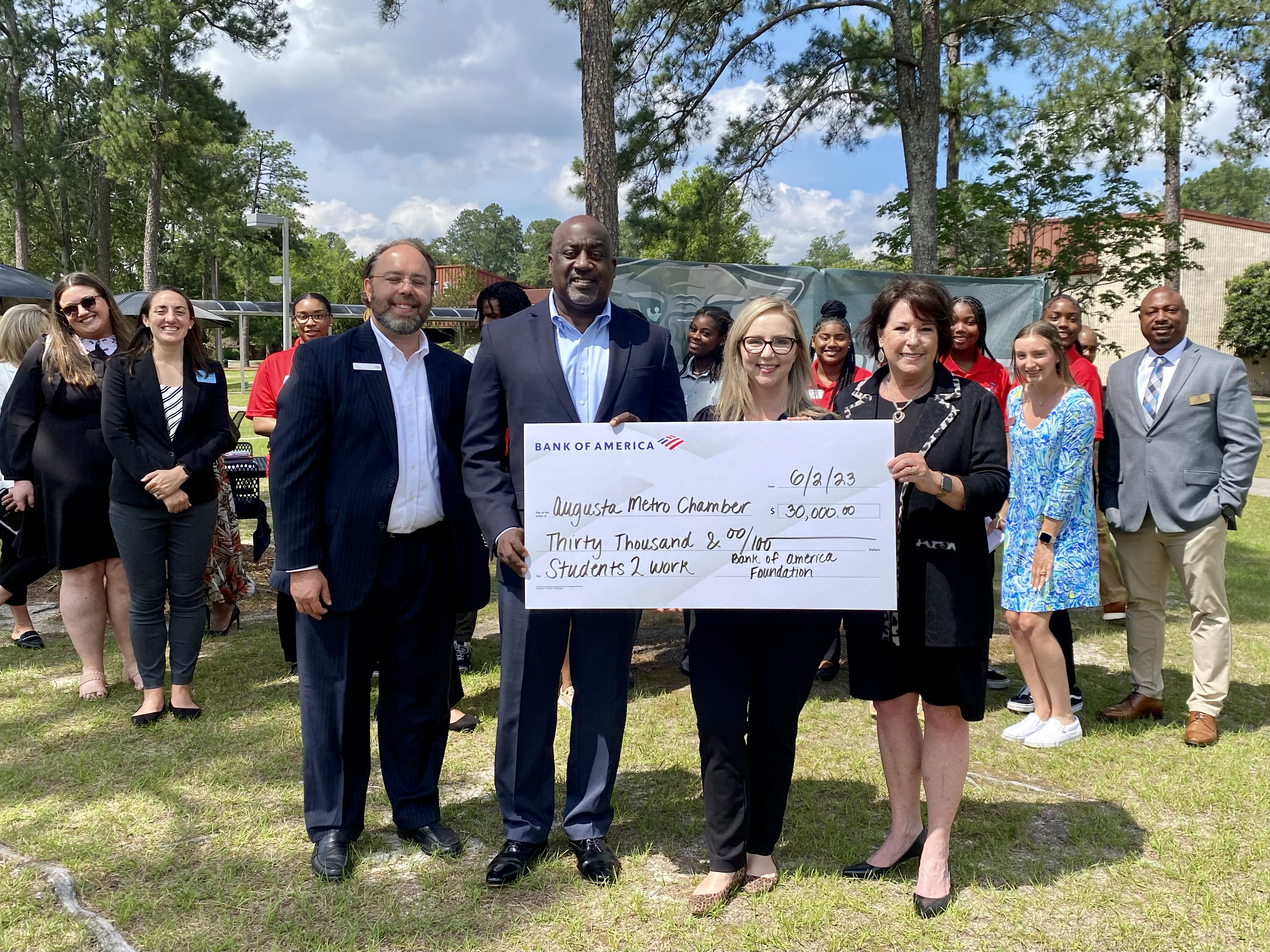 The Augusta Metro Chamber of Commerce is honored to receive grant funding to advance economic mobility in the amount of $30,000 from Bank of America Charitable Foundation, Inc. for their 2023 Students2Work Internships. Through the bank's investment and partnership, this grant will support the placement of 12 Students2Work interns in local non-profits. The non-profits selected to host students this year include Child Enrichment, First Tee - Augusta, Boys & Girls Clubs of Greater Augusta, American Heart Association, Jessye Normal School of the Arts, Goodwill Industries of Middle Georgia & the CSRA, the Clubhou.se, North Augusta Chamber of Commerce and Girl Scouts of Historic Georgia.
To strengthen the Greater Augusta community, Bank of America is helping address barriers to jobs by directing grant funding to the Chamber's Students2Work Program. Now in its 6th year, this Chamber initiative is a 6- week paid internship that provides rising juniors and seniors in the Richmond County School System (RCSS) with work-based learning experience. The mission of Students2Work is to provide opportunities to gain valuable hands-on work experience and support the RCSS vision to create a world-class, globally competitive school system where all students will graduate college/career ready. Students selected for this year's internships were required to complete applications, undergo a business panel interview, and participate in two days of pre-employment soft skill training.
Chamber President Sue Parr reflects over the past years stating "we have seen local non-profits provide students with an extraordinary opportunity to learn key job skills while at the same time supporting a nonprofit mission. The non-profit environment is an excellent way for students to succeed in the program; however, funding is often lacking for non-profits to budget the salary expense of an internship. We would like to express our deepest appreciation to Bank of America for making it possible for these students and the nonprofits that will employ them the opportunity for a mutually beneficial internship experience."
On Friday, June 2 at the Students2Work Grant Presentation at Augusta Technical College, Ora Parish, President of Bank of America Greater Augusta / Aiken ceremoniously presented Sue Parr and the Chamber with the grant funding check. At the event, guests were also able to hear from Carlos Daniels, Director of Operations for the Boys & Girls Clubs, and Michael Newton with the Clubhou.se, two local nonprofits receiving student interns this year.
###
MEDIA CONTACT:
Kathryn Freemon, Communications Coordinator
Augusta Metro Chamber of Commerce
706.627.3898
Kathryn.Freemon@AugustaMetroChamber.com