April Women in Business, 'Tales of Entrepreneurial Wisdom'
Date posted
March 26, 2019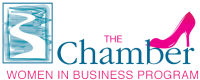 Join the Augusta Metro Chamber and presenting sponsor Spherion on Tuesday, April 23 for Women in Business, 'Let Me Share One Thing: Tales of Entrepreneurial Wisdom.' Defining entrepreneurs and the qualities of such individuals includes words such as visionary, leader, risk manager and innovator. One should quickly note these qualities are not only crucial to success as a business owner, but for all professionals looking to succeed. While the learning curve may be faster for entrepreneurs, we are all developing and honing these qualities. The afternoon's guest panel, Angela Swarts, Spherion; Rebecca Best, Emineo Marketing; Kat McCall, Kat McCall Papers, LLC; and moderator Stacy Roberts; SMR Leadership Solutions, come together to share advice and lessons learned about cultivating the creativity, leadership and self-motivation qualities that all professionals tap into to thrive and achieve.
Angela Swarts, owner for Spherion®, one of the nation's leading staffing and recruiting firms, began her staffing career as a customer service coordinator in 1989. In December 1995, she proudly purchased the Spherion office where she was branch manager, and acquired a second office in Montgomery, AL in July 2005. In 2006, she was recognized with the Owner of the Year award.
Rebecca Best, native of Augusta, earned her Bachelor's and Master's degrees from Augusta University. A full-time lecturer at the Hull College of Business, AU, she began her marketing consulting firm, Emineo Marketing, to address the disconnect she perceived between traditional marketing agencies and the relationships needed to make a business successful.
Kat McCall is an artist and creator of fine paper goods. Her paintings have earned a loyal client base of collectors and exhibitors. Her creations, meant to be part of life, to live in homes, among families and moments, are to be enjoyed every day by their holder, defining space and casting warmth.
Stacy Roberts, MBA is the founder and president of SMR Leadership Solutions, LLC. As an executive coach with extensive HR, corporate, and community leadership experience, Stacy strives to develop quality leaders in their professional and personal lives. Stacy is also an author whose books help teach key skills and valuable lessons to young children.
Tickets are $30 for Chamber members, $40 for prospective-members. Advanced registration is required at AugustaMetroChamber.com. Deadline to register is Friday, April 19. For more information, contact Sabrina Balthrop, Director of Events, at Sabrina.Balthrop@augustametrochamber.com or 706.821.1300.
It is the mission of the Women in Business Committee to strengthen the business community of the Augusta region by providing programs that enhance the knowledge, success and leadership goals of working women at all stages of their personal and professional lives.
###