Chamber President Serving as Chair of GACCE 2019-20 Board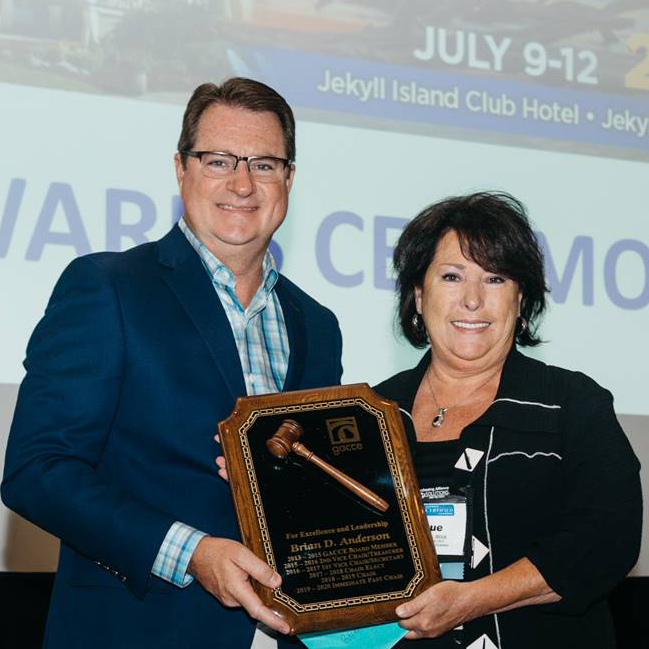 Augusta Metro Chamber President Sue Parr is pleased to be serving as Chair of the Greater Association of Chamber of Commerce Executives (GACCE) 2019-20 Board of Directors. Sue has been an active member of the GACCE Board for several years. GACCE has a long and distinguished history of serving chamber professionals in the state of Georgia. They provide GACCE members with exceptional services in the areas of professional development, information and networking opportunities.
At their 2019 Executive Leadership Conference, held annually in Jekyll Island, Past Chairman Brian Anderson, President & CEO of the Greater Columbus Chamber of Commerce, passed the gavel to incoming Chair Sue Parr. The GACCE Executive Leadership Conference is designed to teach Chamber Executives new ways to solve management problems, to motivate people, and to increase their knowledge in order to become more effective in developing their local communities.
The membership of GACCE consists of Chamber of Commerce executives and staff, as well as those members of business and community organizations who are directly interested in or allied with Chamber of Commerce work in Georgia. GACCE currently has 144 Chambers as members and 32 Associate Members.
The Augusta Metro Chamber of Commerce, a long-standing GACCE member, is the largest business membership organization in the CSRA. Membership is open to all businesses and organizations interested in enhancing the overall growth of the Augusta Region. The mission of the Augusta Metro Chamber is to lead the business community by serving as its advocate, promoting our region, enhancing the business climate, and promoting quality membership programs and services. To learn more about the Augusta Metro Chamber of Commerce, visit AugustaMetroChamber.com.
###