Largest Class to Date for Chamber Small Business Marketing Academy
Date posted
February 1, 2019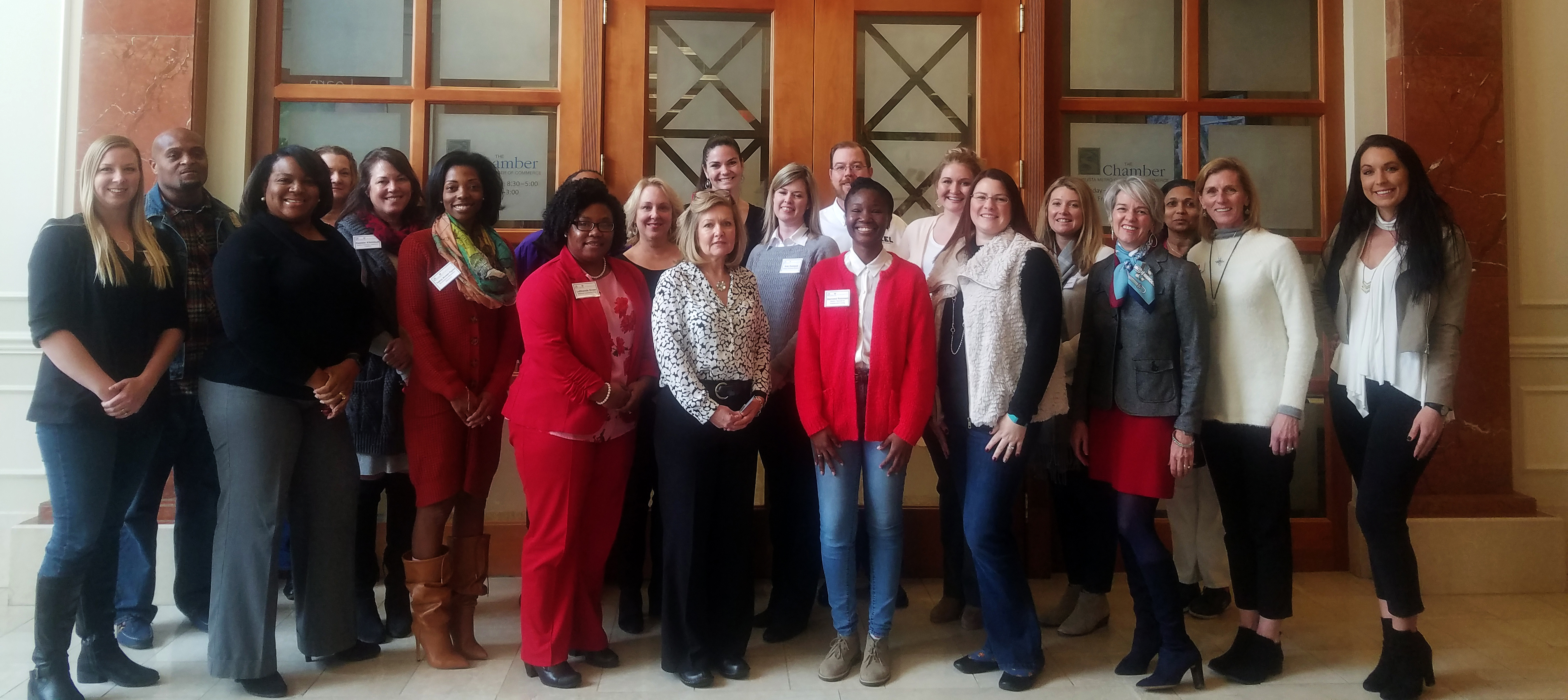 The Augusta Metro Chamber Small Business Marketing Academy: January – June 2019 program kicked off Wednesday, January 30 with the largest class to date. The Academy, now in its third year and presented by South State Bank, assembles small business owners/managers to learn, share and plan for a growing, thriving business. The January - June 2019 class members include:
Ashlie Arsenault, Augusta Sports Leagues, LLC
Betsy Barrow, Stage Front
Jennie Booker, Pine Knoll Farms
Brenda Brown, Patterson-Brown & Associates
TeKay Brown-Taylor, Brownstone Mediation Services
Ann Campbell-Kelly, Walton Options for Independent Living
Laurie Easterlin, Staged to a Tee
Travis Gamble, Southern Residential Installations
Stacey Gordon, ZEL Engineers
Ginger Gray, Fehrman Investment Group
LaShanda Green, Medical Associates Plus
Heather Hill, Mosaic United Methodist Church
Lillian Huber, Marco's Pizza
Orin Jackson, Dryer Vent Wizard of the CSRA
LaBorron Jackson, Universal Carpet Cleaning
Liz Klebba, Closet Play Image
Debbie Kleinbub, Debbie Kleinbub - Meybohm Realtors
Ali Mays, Dickinson Architects, PC
Vicky Mistry, Rodeway Inn & Suites
Shannon Mitchell, Augusta GreenJackets Baseball Club
Diamond Robinson, Walton Options for Independent Living
Safia Siddiqui, R6 Industries
Kim Swinson, Integra Business Brokers
Sally Wood, Baby Azur
Participants come together once a month for six months for a full day of learning from local industry experts, and to engage in roundtable discussion applying practical advice and best practices. The Academy runs twice per year with classes beginning in January and July. Classes are held on the last Wednesday of the month (excluding December).
Day one of the January – June 2019 program focused on 'Essential Marketing Plan Ingredients' allowing participants to learn the steps and components of creating or updating a marketing plan. Additional topics covered in the academy will include 'Branding Basics,' 'Media & Advertising,' and 'Marketing Through Technology.' The final day of the Academy is dedicated to the creation of a customized marketing plan with the help of an assigned mentor. Each member of the class will leave the program with a professionally reviewed plan that captures Academy learning with the goal of each participant successfully marketing their business.
To participate in the Academy, applicants must submit an application and agree to the terms of enrollment; including payment of a tuition fee of $150 for Members ($300 for non-members), completion of a business assessment prior to the program and a pledge to attend all classes of the program. For more information on the Augusta Metro Chamber's Small Business Marketing Academy, visit augustametrochamber.com/marketingacademy.
###