Meet.Mingle.Mesh. at SharedSpace Augusta, February 12
Date posted
January 22, 2019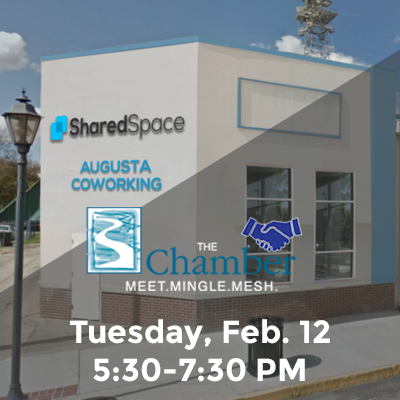 Join the Augusta Metro Chamber at SharedSpace Augusta (901 Greene St. Augusta, 30901) for Meet.Mingle.Mesh. on Tuesday, February 12. The Chamber and SharedSpace will host an evening of networking, food and fun at the brand new co-working location in downtown Augusta. Come meet new connections and industry partners, mingle with business community professionals, and mesh to come together for success.
In July 2016, Daniel Levison and Michael Everts partnered up to create SharedSpace, a high-tech workspace focused on serving local communities in the Atlanta suburbs. The first 5,000 square foot location was built right in the heart of Dunwoody and filled up quickly with the local community who were tired of fighting Atlanta traffic to work. Since opening, SharedSpace has doubled the size of their Dunwoody location, opened a second location in Cobb County near Suntrust Park, and their third location in the heart of Augusta, Georgia.
On February 12 from 5:30 to 7:30 pm, SharedSpace and the Augusta Metro Chamber will welcome fellow members and the community to experience the newly renovated space. Tours of the SharedSpace Augusta facility will be provided. Join us to see the results of the renovation transformation to a unique and fun co-working office space, conference rooms and event space.
Meet.Mingle.Mesh is complimentary for Chamber members and $25 for prospective-members. Advanced registration is required at AugustaMetroChamber.com. Deadline to register is Friday, February 8. Parking will be available in the Richmond County Board of Education Parking Plaza on 9th Street, between Greene and Ellis Streets. For more information, please contact Sabrina Balthrop, Director of Events, at Sabrina.Balthrop@augustametrochamber.com or by calling 706.821.1300.
Meet.Mingle.Mesh. offers strategic networking opportunities to connect, engage and grow your business in a relaxed, social setting. Companies host these events to showcase their business and to offer a service to their fellow Chamber members.
###