Meet.Mingle.Mesh. at The Augusta Chronicle, February 4
Date posted
January 15, 2020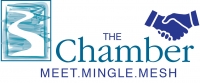 Join the Augusta Metro Chamber and The Augusta Chronicle for an evening of networking, food and fun! The Augusta Chronicle will host Meet.Mingle.Mesh. on Tuesday, February 4 in their newly renovated space located at 725 Broad Street in downtown Augusta. Come meet new connections and industry partners, mingle with business community professionals, and mesh to come together for success.
As our city has transformed, so has The Augusta Chronicle. With the help of many local professionals, The Chronicle decided to renovate the 11,433 square feet of the first floor of 725 Broad Street and created a workspace that better reflects who they are and how they function in today's ever-changing media landscape. This investment in the revitalization of downtown Augusta, the growth of their company and their employees further demonstrates their commitment to serve our community by providing rewarding careers, award-winning journalism and the latest in local news and information.
On February 4 from 5:30 to 7:30 pm, The Augusta Chronicle and Augusta Metro Chamber will welcome fellow members and the community to the newly renovated building. Come see the results of the renovation transformation to a unique and inviting news building. Tours will be provided. Meet.Mingle.Mesh. is complimentary for Chamber members and $25 for prospective-members. Advanced registration is required at AugustaMetroChamber.com. Please register by Friday, January 31. For more information, contact Sara Best, Director of Events, at sara.best@augustametrochamber.com or by calling 706.821.1300.
Meet.Mingle.Mesh. offers strategic networking opportunities to connect, engage and grow your business in a relaxed, social setting. Companies host these events to showcase their business and to offer a service to their fellow Chamber members.
###