Augusta Metro Chamber Announces 2021 Best In Business, Loop Recruiting and SRNS
Date posted
December 8, 2021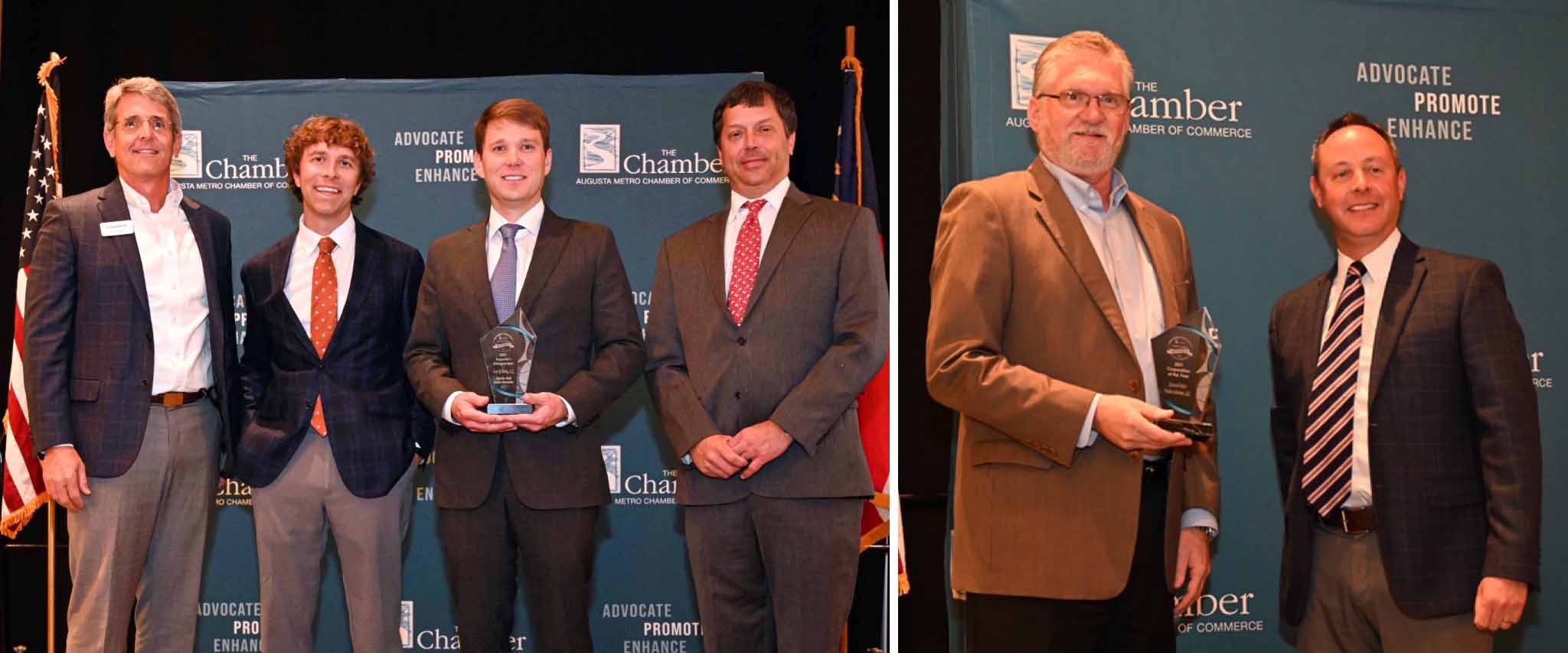 Augusta, GA (December 8, 2021) – Each year, the Augusta Metro Chamber of Commerce honors the individuals and companies who have distinguished themselves in the Greater Augusta region. The recipients of this year's Best in Business awards were recognized at the Chamber's Member Economic Luncheon on December 8 at the Augusta Marriott. The Best in Business awards include Augusta's Entrepreneur, presented by South State Bank and Corporation of the Year, presented by Georgia Power.
Charlie Wall and Jason Kennedy with Loop Recruiting, winner of the Chamber's 2021 Augusta's Entrepreneur award, have distinguished themselves not only by their success in business, but also their creativity, innovative spirit and community involvement. Loop Recruiting is a technology staffing and recruiting company headquartered in Augusta, Georgia and Spartanburg, South Carolina. Founded in 2015 by partners Jason Kennedy and Charlie Wall, Loop capitalized on an emerging dynamic in its local market. Over the past six years, Loop has built out its own internal recruiting staff and technical infrastructure with its target client base in mind. Located in the heart of downtown Augusta, GA, the Loop team thrives off of partnership, collaboration, success, and fun. Their goal is to create a work environment where each employee feels in the loop and enjoys coming to work each day. Loop was named as one of Inc.'s Best Workplaces in 2021. Loop is invested in helping the Augusta community and partners with various organizations like: SafeHomes Domestic Violence Center, The Augusta YMCA, Camp Ivey, Boys & Girls Clubs of Greater Augusta, ForcesUnited and Augusta Training Shop.
When recognizing this year's Corporation of the Year, Savannah River Nuclear Solutions has not only distinguished themselves with outstanding commitment to business development and market expansion but with their continued commitment in community development. SRNS is one of the largest employers in the CSRA, and 1,600 of SRNS' 5,300 employees live in Georgia. SRNS has a significant economic development impact across the region. Since 2008, SRNS and its corporate parents have contributed more than $12 million throughout the CSRA in corporate philanthropic contributions to charitable causes; education outreach investments in K-12 schools and regional two- and four-year colleges and universities; and economic development and community partnerships. SRNS continues to make significant investments to develop, attract and retain a highly skilled workforce at Savannah River Site. SRNS was named one of the "Best Places to Work in South Carolina" in 2021 among large employers. Safe work practices, transparent leadership, consistent communication and employee empowerment are just a few of the reasons why SRNS stands out.
###
Media Contact:
Kathryn Freemon, Communications Coordinator