Augusta Metro Chamber Honors 2022 Best In Business
Date posted
December 1, 2022
Augusta Metro Chamber Honors Entrepreneurial Spirit, Corporate Commitment at 2022 Best In Business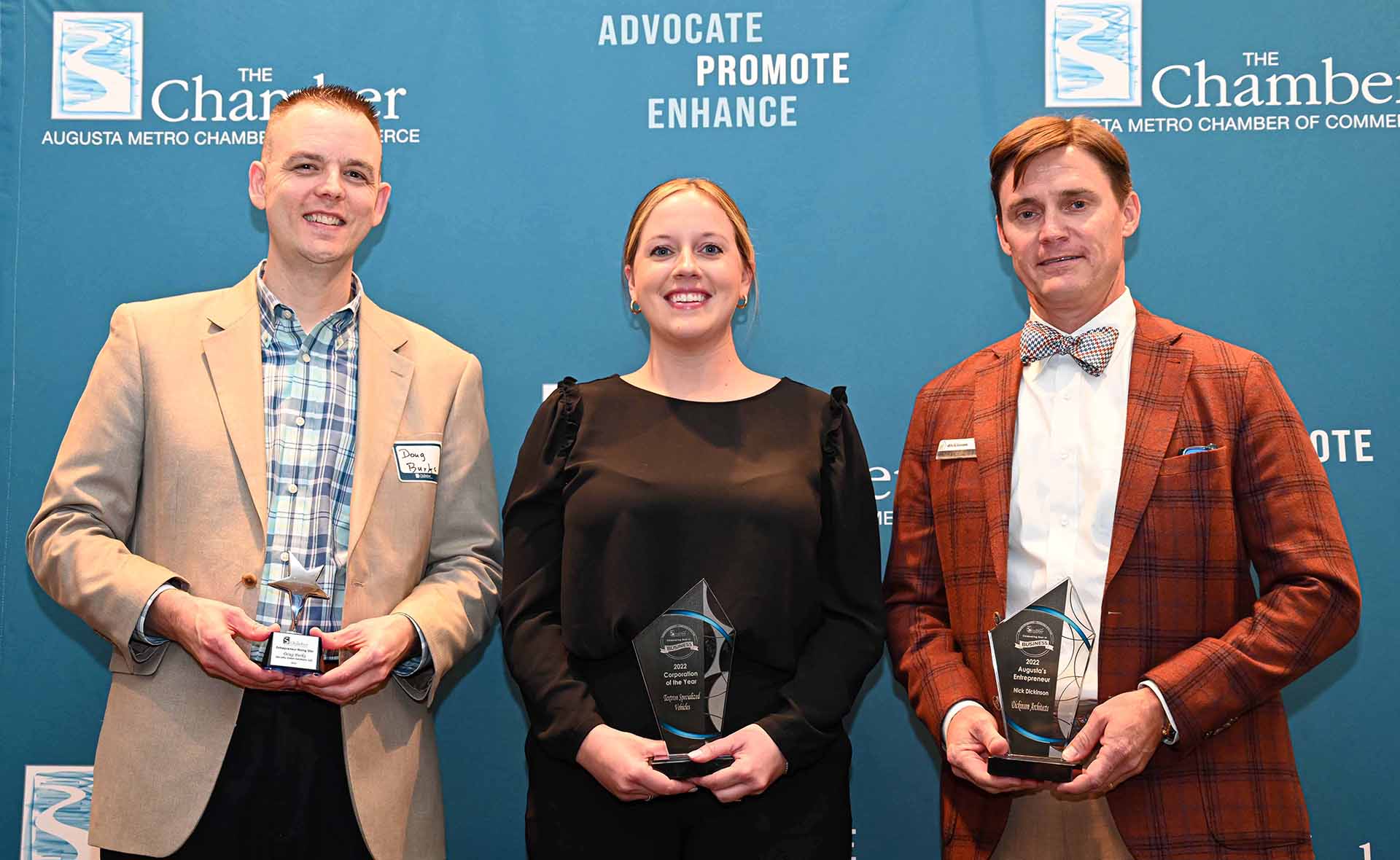 Augusta, GA (December 1, 2022) – With this year's Best In Business awards, the Augusta Metro Chamber celebrates the entrepreneurial spirit within our community as well as the outstanding commitment of corporations to our local economy. The annual Best In Business awards include Augusta's Entrepreneur, presented by South State Bank, and Corporation of the Year and the 2022 recipients were honored at the Chamber's Member Economic Luncheon on December 1 at the Crowne Plaza North Augusta.
Nick Dickinson, CEO of Dickinson Architects, PC is the recipient of the 2022 Augusta's Entrepreneur award based on his overall operational excellence, growth and performance, as well as creativity, innovative spirit, community involvement and impact. As a second-generation owner of Dickinson Architects, Nick was fortunate to have received training from his mentor and father, Nicholas Dickinson, Sr. This training prepared him with a variety of design styles and helped him understand that no single design approach is the right one for every client. Two things that differentiate Dickinson Architects from other architectural and interior design firms in Augusta is institutional knowledge of the area and thefirm's dedication to serving their clients. Nick believes the best way to advocate for the community you live in and love is through involvement and service. Not only are these activities necessary, but it's important and encouraged for all employees of Dickinson Architects to be involved in the betterment of the Augusta area. This year Nick and his team received the New Construction Award, presented by Historic Augusta, Inc. for the Heritage Academy architectural project.
For the first time since 2013, the Chamber also recognized an individual who has made significant progress in their business and are well positioned for future growth. Doug Burks, Founder and CEO of Security Onion Solutions, LLC is the recipient of the Entrepreneur Rising Star award. The mission of Security Onion Solutions is to build a successful cybersecurity company that partners with our customers to peel back the layers of their networks and make their adversaries cry! Dougbootstrapped the company in 2014 and has been profitable ever since. Growing organically based on customer demand is uncommon in an industry where taking on venture capital is the norm. However, this has afforded them the freedom to always make the right choices for theircustomers and employees. Security Onion Solutions continually raises the bar and disrupt the industry making them the perfect recipient of this rising star award. The last time this award was given was to a staple in our community Krista and Sean Wight, owners of Frog Hollow Hospitality Group.
This year's Corporation of the Year goes to Textron Specialized Vehicles(TSV), a company who has been innovating for over a half century. TSVemploys more than 3,000 people worldwide with 50% of their workforce here in Augusta building their original flagship product. The true distinction of this company as the 2022 Corporation of the Year is not justtheir financial support of the Augusta community, but their dedication to helping our community innovate, find better solutions and solve problems.In 2017 in partnership the Richmond County School System, TSV built Reaching Potential through Manufacturing (RPM), a high school where education, on-the-job training and employment creates better and brighter future outcomes for students. TSV's employee driven TSVCaresCommittee supports requests providing tens of thousands of dollars invested back into the community year after year. Not only does TSV's corporate giving sustain the RPM High School, it also ensures investments to a myriad of local non-profits that are improving the quality of life as well as community health and wellness for all Augustans.
Click to view photos from the 2022 Best In Business Celebration