Augusta Metro Chamber Presents Virtual Women In Business, June 16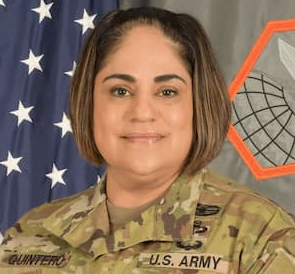 The Augusta Metro Chamber of Commerce is honored to present a Virtual Women In Business on Tuesday, June 16, 12:00-1:00pm, featuring Command Sergeant Major Delia Quintero of the U.S. Army Cyber Center of Excellence and Fort Gordon. As the first female Command Sergeant Major, CSM Quintero exemplifies female leadership in our community. She will share her development as an Army leader in the Department of Defense, inform us on recent news regarding the U.S. Army Cyber Center of Excellence and Fort Gordon, and communicate how Fort Gordon continues to be an economic driver as the business community enters a period of recovery.
CSM Delia Quintero has served in many assignments and positions ranging from Team Chief to her role as Command Sergeant Major for the U.S. Army Cyber Center of Excellence and Fort Gordon. She entered the United States Army in 1992 with basic training at Fort Jackson, SC and her advance individual training was at Fort Gordon, GA where she was awarded the MOS 25L, a Wire Systems Installer and Maintainer. She served five combat tours: two in Iraq and three in Afghanistan. CSM Quintero has received numerous awards and decorations consisting of the Joint Meritorious Unit Award, the Army Valorous Unit Citation Award, the Bronze Star Medal, and various other honors. She is a Distinguished Member of the 508th Infantry Parachute Regiment, a member of the 82nd Airborne Division All American Centurion, a recipient of the honorable Signal Corps Regimental's Bronze Order of Mercury and is a member of the prestigious Sergeant Audie Murphy Club (SAMC). CSM Quintero holds an Associate's Degree in Administration Management, a Bachelor's Degree of Science with a focus in Psychology and she is currently working on her Master's in Human Resources with a focus in Strategic Leadership.
To submit questions for CSM Quintero, visit sli.do and use Code #15201 to enter the question forum. Questions must be submitted ahead of time. Deadline for submission is Sunday, June 14th.
This virtual program is complimentary to attend, but a $15 donation is requested upon registration for the Education Resources of Augusta Fund; a philanthropic, community fund dedicated exclusively for the purpose of supporting public education in the Augusta Region. All donations will go directly to support this summer's 24/7 online tutoring for Richmond County School System students. To register for the June Women In Business, please visit augustametrochamber.com/events. For more information, contact Sara Best, Director of Events, at sara.best@augustametrochamber.com or 706.821.1300.
It is the mission of the Women in Business Committee to strengthen the business community of the Augusta region by providing programs that enhance the knowledge, success and leadership goals of working women at all stages of their personal and professional lives.
###