Augusta Metro Chamber Virtual Women In Business Focusing on Financial Literacy, August 25
Date posted
August 12, 2020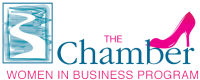 The Augusta Metro Chamber's next Virtual Women in Business program, focusing on "Financial Literacy: Coming Out of a Crisis Ahead and Prepared," will be held Tuesday, August 25 and will feature Grace Helms, AVP of Community Development, with SRP Federal Credit Union. Grace will discuss factors for consideration when it comes to personal finances emerging from a crisis as well as preparing for the future. Learn how to position yourself to achieve goals and financial security. As children head back to school, now is the perfect time to begin assessing your financial plans and making the necessary adaptations.
Having dedicated her career to the cooperative philosophy of credit unions, Grace has served in numerous roles in the industry, including Director of Administration and President/CEO. Under Grace's leadership, the Community Development Department at SRP Federal Credit Union has recently achieved multi-state level recognition and awards for its efforts to provide financial literacy education to local area students. Grace obtained her Credit Union Management Certification at the Southeastern Regional Credit Union School at the University of Georgia in 2009. She also earned the designation of Credit Union Development Educator at the National Credit Union Foundation School at the University of Wisconsin in 2019.
In addition to her work within the credit union movement, Grace has previously volunteered on numerous other committees and served on several boards. She is an active member of many local chambers of commerce and currently serves as Chair of the Workplace Learning Committee for the Augusta Metro Chamber of Commerce.
This virtual program is complimentary to attend, but a $15 donation is requested upon registration for the Education Resources of Augusta Fund; a philanthropic, community fund dedicated exclusively for the purpose of supporting public education in the Augusta Region. All donations go directly to support professional development learning for teachers, WI-FI accessibility for students, and additional resources for education. To register, please visit augustametrochamber.com/events. For more information, contact Sara Best, Director of Events, at sara.best@augustametrochamber.com or 706.821.1300.
It is the mission of the Women in Business Committee to strengthen the business community of the Augusta region by providing programs that enhance the knowledge, success and leadership goals of working women at all stages of their personal and professional lives.
###