Topgolf VP of Operations Setting the 'Example, Not Exception' at Women In Business, September 15
Date posted
August 26, 2020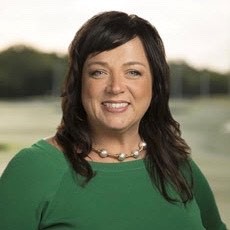 Join the Augusta Metro Chamber of Commerce Tuesday, September 15 at noon for an empowering virtual session with Genifer Gray, Vice President of Operations with Topgolf Entertainment Group, as she takes us through her career path and the progression that led her to the highest levels within Topgolf. As Genifer discusses 'Example, Not Exception: Thriving in a Traditionally Male Dominated Industry,' she will also share the values she instils as a leader to her team, her philosophy of directing employees, and representing the brand within a male dominated industry.
As Vice President of Operations for Topgolf in the U.S., Genifer Gray oversees Topgolf's food and beverage program, Guest support center, golf services and Topgolf Coach instruction, and high-priority strategic projects. Genifer joined Topgolf from Maggiano's Little Italy, where she served as Co-President and Chief Operating Officer, overseeing 53 restaurants and 10,000 employees. She began her career at On The Border Mexican Grill & Cantina in 1998 as a server and bartender and worked her way up through the Brinker International family of brands, serving in a variety of roles, including Vice President of Operations and Human Resources and Senior Director of Operations Services, and gaining invaluable restaurant and hospitality experience.
Genifer studied hospitality management at the University of Georgia and executive leadership at Kellogg's School of Business at Northwestern University. She is passionate about giving back to organizations like Make-A-Wish® and Habitat for Humanity. In her spare time, Genifer enjoys spending time with her family, traveling, watching college football and trying out new restaurants.
This virtual program is complimentary to attend, but a $15 donation is requested upon registration for the Education Resources of Augusta Fund; a philanthropic, community fund dedicated exclusively for the purpose of supporting public education in the Augusta Region. All donations go directly to support professional development learning for teachers, WI-FI accessibility for students, and additional resources for education. To register, please visit augustametrochamber.com/events. For more information, contact Sara Best, Director of Events, at sara.best@augustametrochamber.com or 706.821.1300.
It is the mission of the Women in Business Committee to strengthen the business community of the Augusta region by providing programs that enhance the knowledge, success and leadership goals of working women at all stages of their personal and professional lives.
###