'Clearing the Mind: Managing the causes and results of stress' at November WIB
Date posted
November 2, 2018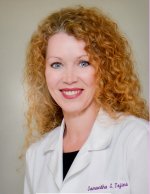 Join the Augusta Metro Chamber and presenting sponsor Doctors Hospital on Tuesday, November 20 for Women in Business, 'Clearing the Mind: Managing the causes and results of stress.' The afternoon's presentation will feature Samantha Tojino, FNP-C, Urology and Pelvic Health Specialist at Doctors Hospital. The luncheon will be held at the Legends Club and begins at 11:30 am.
With the increasing pace of work and life, the collective effects that at times impact our day – memory problems, lack of mental clarity, poor concentration – have a name, "brain fog." Tojino will speak more on the varying causes of this mental fatigue, and share tips and best resources for clearing the fog and managing stress.
Currently completing her doctorate at the University of South Carolina, Tojino's research focus is women's sexual health and addressing women's menopausal health issues, including the imbalances that can contribute to the "brain fog" experience. Prior to joining Doctors Hospital, Tojino assisted in the development of the sexual health division of Premier Women's Center for Incontinence and Sexual Health, and served as the Director of Operations for a urological medical practice and Director of Patient Service at a home health agency. She is a presenter and faculty member for the Nurse Practitioners in Women's Health annual Female Sexual Health Conference. In addition, Tojino has a background as a certified oncology nurse.
Tickets are $30 for Chamber members, $40 for prospective-members. Advanced registration required at AugustaMetroChamber.com. Deadline to register is Friday, November 16. For more information, contact Sabrina Balthrop, Director of Events, at Sabrina.Balthrop@augustametrochamber.com or 706.821.1300.
It is the mission of the Women in Business Committee to strengthen the business community of the Augusta region by providing programs that enhance the knowledge, success and leadership goals of working women at all stages of their personal and professional lives.
###