Augusta Metro Chamber to Host Virtual Women In Business, May 19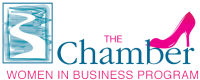 Grab your lunch and join the Augusta Metro Chamber of Commerce for a virtual Women In Business program on Tuesday, May 19 at 12:00 p.m. (noon). Through a fun and engaging experience, this highly interactive virtual session with Katie Wynn, President of Dynamik Consulting, will focus on 'Understanding Yourself and Others in Times of Stress and Change'. Katie will display how we respond differently to stress and change based on our color energies, strategies for recognizing and adapting to other's styles, and illustrate why communication and connection is important, especially through our own perception.
Katie Wynn brings passion, vibrancy and 15 years of experience to the organizational effectiveness field. A truly talented facilitator and trainer, she uses her skills of adaptability, engagement, observation, analysis and communication paired with her energy and competency to transform workplaces into more collaborative and efficient environments, allowing companies to open new doors of success and reach new heights.
As the Founder and President of Dynamik Consulting, Katie leads impactful workshops and facilitates transformative programs that increase self-awareness, insight, camaraderie and performance within teams. She designs customized plans for groups based on their needs and has had the pleasure of delivering solutions for forward thinking companies throughout the country including Google, Uber, LinkedIn, Microsoft and InStyle. Katie is an Insights Discovery Licensed Practitioner, a partner with Ken Blanchard Co, and an Enneagream enthusiast.
This virtual program is complimentary to attend, but a $15 donation is requested upon registration for the Education Resources of Augusta Fund; a philanthropic, community fund dedicated exclusively for the purpose of supporting public education in the Augusta Region. All donations will go directly to support this summer's 24/7 online tutoring for Richmond County School System students. To register for the May Women In Business program, please visit augustametrochamber.com/events. For more information, contact Sara Best, Director of Events, at sara.best@augustametrochamber.com or 706.821.1300.
It is the mission of the Women in Business Committee to strengthen the business community of the Augusta region by providing programs that enhance the knowledge, success and leadership goals of working women at all stages of their personal and professional lives.
###