Chamber to Host Webinar with Lead Staffer of GA Chamber Resiliency & Recovery Task Force, May 14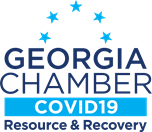 As the Georgia Chamber continues to provide resources for living and working through COVID-19, a task force was created to stay equally focused on recovery and resiliency of our collective community. The Augusta Metro Chamber will host an important webinar on Thursday, May 14 with the Lead Staffer of the Georgia Chamber's Resiliency and Recovery Task Force. Daniela Perry, Vice President of Georgia Chamber Foundation, will address the necessity of getting back to business, plans to assist our remote workforce returning to the office, and provide insights of sustainability for the New Georgia Economy (NGE), post COVID-19.
Leveraging partners in the private and public sectors, the Georgia Chamber Resiliency and Recovery Task Force is leading the charge for economic recovery in the state to develop strategies, provide insights and bolster growth and sustainability of the NGE. This initiative is an inclusive endeavor to bring together leading voices from every region and business sector in the state.
As Vice President of the Georgia Chamber Foundation, Daniela Perry leads the strategic efforts of the Georgia Chamber Foundation including external grant projects, policy initiatives, and producing research and data analysis to support these activities. Perry previously served as Senior Director of Public Policy & Federal Affairs for the Georgia Chamber. Prior to that, Perry served as a Field Representative for U.S. Senator Johnny Isakson where she represented him in a 15-county region in Northeast Georgia and Metro Atlanta. She also served in state government as the Business and Operations Manager for the State Charter Schools Commission of Georgia.
These virtual events are part of the Augusta Metro Chamber's Achieving More Virtually Web Series and are hosted on GoToWebinar, a platform for businesses to create and deliver online events and videoconferences in an engaging environment. Complimentary to Chamber members, the Achieving More Virtually Web Series is held every Tuesday and Thursday at 3:00 p.m. and provides relevant content designed to keep members engaged, positive and energized. Prospective members that would like to attend these webinars can do so for a $15 credit towards membership dues for every webinar they attend. Visit augustametrochamber.com/events for further webinar details and registration information.
The Augusta Metro Chamber's Achieving More Virtually Web Series is a twice-weekly webinar series designed to provide informative and instructional virtual events to support the success of our members.
###